The fashion industry is one of the largest polluters in the world. In an effort to look for more sustainable ways of working, the Amsterdam-based non-profit platform Fashion for Good aims to connect and inform all major players in the field, including consumers, through its impressive office, event space and museum. Fashion for Good's Communications Manager, Anne-Ro Klevant Groen, explains why the pace must be stepped up to stamp out fast fashion.
Type a selection of fashion-related terms into Google and you'll get millions of hits for various topics, from 'fashion industry pollution' to 'fashion industry statistics' and more. As environmental awareness increases in all areas of our lives, the impact that fashion has on the environment has become a hot topic.
An astonishing 1.5 trillion litres of water is used by the fashion industry each year, and around 20% of water pollution comes from the treatment and dyeing of textiles. There are many more negative effects on the environment aside from water pollution, not to mention the poor circumstances under which staff are often forced to work. Recycling isn't the answer, as less than 1% of clothing material is recycled. Every second, one truck of textiles is sent to landfill or burned. Fast fashion has become so toxic that it ranks in the top five most polluting industries.
While knowledge of these alarming figures is growing among consumers, there is still a lot of work to be done. That's where Fashion for Good comes in. From a monumental building in the centre of Amsterdam, this international platform is working towards a more sustainable fashion industry on all fronts. Launched in March 2017 with founding partner C&A Foundation, Fashion for Good aims to connect all the players in the fashion chain, from brands and suppliers to innovators and consumers, in a joint effort to make the fashion industry a force for good. Ironically, the building is surrounded by fast-fashion chains and many shoppers might pass by, unaware of the exciting activities taking place inside. A highlight is the futuristic museum, where visitors can explore the facts and figures of the fashion industry in an entertaining way.
Leaving the museum behind, there are many more intriguing floors to discover, as Anne-Ro leads the way. 'Our main goal is to introduce visitors to the facts and myths of fashion in a fun way,' she explains. 'We do this in a very interactive way: you can feel materials, watch videos of people working in the factories, and in our store you can buy garments made by sustainable brands.' Anne-Ro speaks quickly and passionately as we stroll around. 'Here's a T-shirt design studio, where you can design and print your own cradle-to-cradle certified T-shirt. On the first floor, we have an innovation lounge where we showcase the products of all the partners we're currently working with. That ranges from a waistcoat made of mushroom leather to a dress dyed with 100% sustainable paint. And then there's the event space where we hold regular workshops and lectures.'
Anne-Ro says: 'Many people who step inside the museum or contact us online are already well informed and super passionate about the subject. That's great, because we're not claiming to know everything. Criticism and new ideas are always welcome.'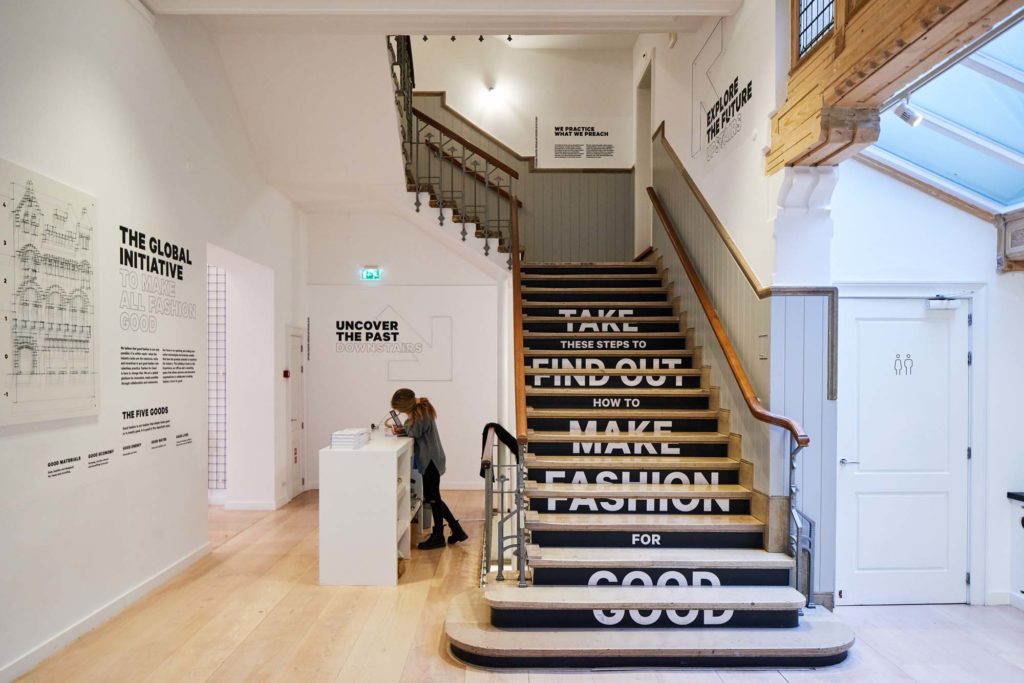 'It's a practical and optimistic museum; we're not looking to shock or depress people.'
By presenting stories of game-changing innovations and new technologies up close and personal, visitors are encouraged to take a closer look at their own buyer behaviour and leave with actionable steps for their fashion journey. 'Or as we call it, to develop their own Good Fashion Action Plan,' says Anne-Ro. 'It's like a to-do list to make things better. This could be anything from taking sewing classes to vintage shopping or following lectures by industry experts.' Based on their interests, visitors receive notifications on forthcoming events after their visit. This way, Fashion for Good aims to keep people informed and motivated about sticking to their action plan in a fun way that's not pushy. 'It's a practical and optimistic museum; we're not looking to shock or depress people,' Anne-Ro stresses. 'But if you're really inspired and want to produce sustainable garments yourself, we also offer an open source network where you can find information and links to various players in the field who might be able to help you.'
When it comes to her personal drive, Anne-Ro (her surname, Groen, funnily enough means 'green' in Dutch) started becoming more conscious about sustainability about five years ago. 'I just got more conscious about eating meat, my shopping habits and the way I was contributing to the environment in general,' she says. 'I also watched a few documentaries on Netflix, like The True Cost, and concluded that I no longer felt comfortable with contributing to a fast-fashion industry that revolved around producing and selling as much as possible.'
Anne-Ro was no stranger to the topic, as she had already gained extensive experience in the industry by that time. After being introduced to the world of fashion during high school when she was modelling part time, she studied journalism and worked for fashion magazines such as Cosmopolitan and Grazia before moving on to a career in fashion PR and marketing. Anne-Ro worked for both agencies and major international brands such as Tommy Hilfiger and Karl Lagerfeld.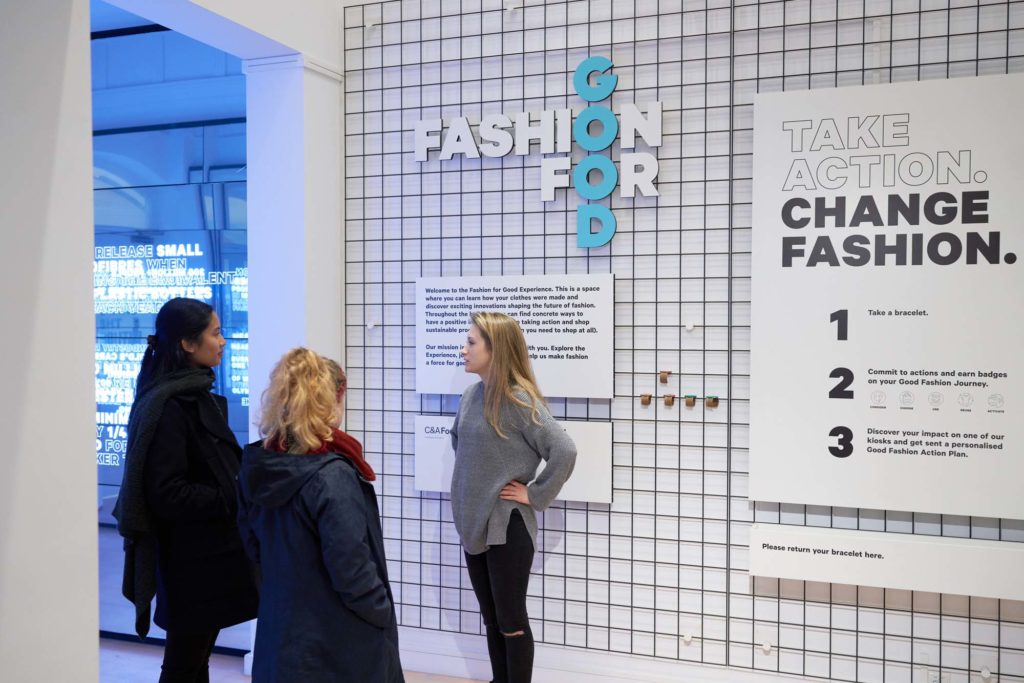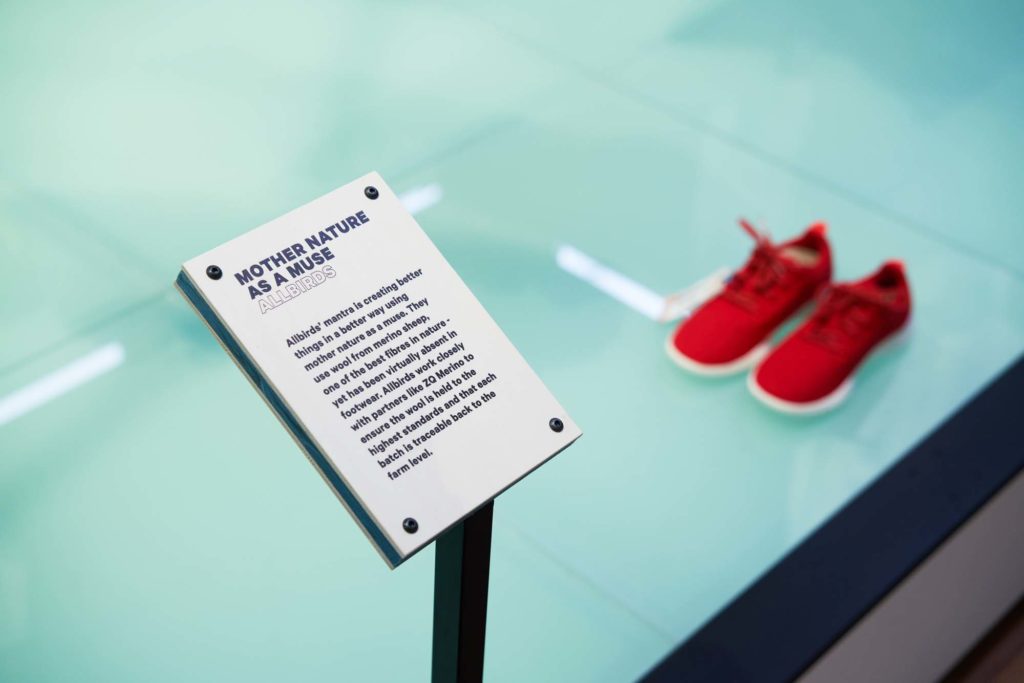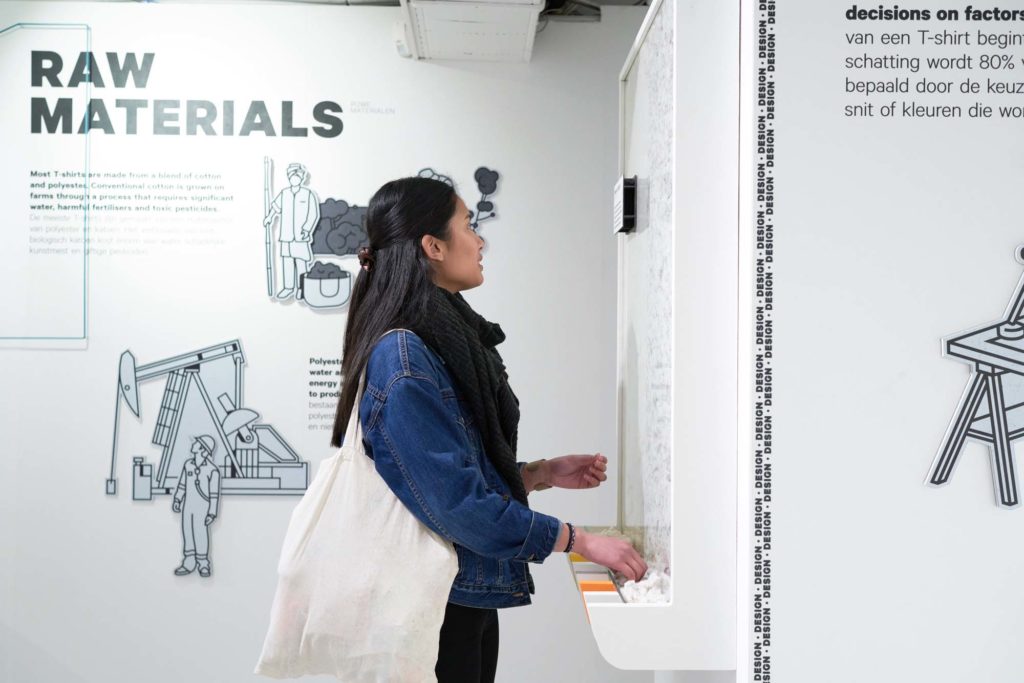 'Youth education about the impact of fashion pollution is so important. The earlier you can impact on someone's buying behaviour, the better.'
When Anne-Ro was approached for the role of Communication Manager at Fashion for Good, it was an easy decision. 'I had the desire to work in the field of sustainability, but I wasn't looking to work for an action or lobby group,' she explains. 'I wanted to work directly in the industry, where I felt I could have a bigger impact. What I love about this job is that I get to work on both the business side and directly with consumers. How do you convey your message in different ways, to players in the field and to the public?'
Fashion for Good has various important missions, one of which is connecting big brands to startups in the field of sustainability. 'When starting Fashion for Good,' Anne-Ro explains, 'we noticed there were a lot of amazing solutions available around the world to help make the industry more sustainable. The problem is these are often startups with a lack of experience in how to promote their product or how to get in contact with the big brands or producers.'
Fashion for Good is the missing link that connects the two worlds. Its core business is being an innovation platform that offers startup and scale-up programmes, plus funds for innovators around the world. The funding comes from founding partner C&A Foundation, and corporate partners currently involved range from Stella McCartney to Zalando. 'Together with our corporate partners, we first determine their main goals in terms of sustainability for the coming years, and then try to find the young global innovators who might be able to help them achieve those goals,' explains Anne-Ro. 'Say Stella McCartney is looking for a new material as an alternative to leather that's biodegradable, we'll connect her to the right people. But it could also be a company looking for a blockchain technology to help them make their business more transparent.'
This scouting process is ongoing, but Fashion for Good also trains these startups in the areas of legalities, pitching, strategy and finance. 'We offer them a special three-month programme, in which they also meet all our corporate partners,' says Anne-Ro.
'Obviously, the learning process goes both ways, as it's super valuable for these young startups to see what these major companies look like on the inside and vice versa. The scaling project is more for companies that have grown out of the startup phase and are looking to make their business grow and help them with the bigger strategic questions for the longer term.' Then there's also a Good Fashion Fund, meant to invest when these startup or scale-up companies need financial funds to turn their ideas into reality. This could be funding for research, but also money to invest in a factory that's willing and able to produce sustainable materials.
It's no coincidence that Fashion for Good is based in Amsterdam, Anne-Ro says. 'The startup climate in the Netherlands is quite strong and a lot of our corporate partners, such as PVH Corp [owner of Tommy Hilfiger and Calvin Klein], also have their European headquarters here. In terms of geographical location, it's also easy that we're in a time zone where we can connect to both Asia and the US on the same day.'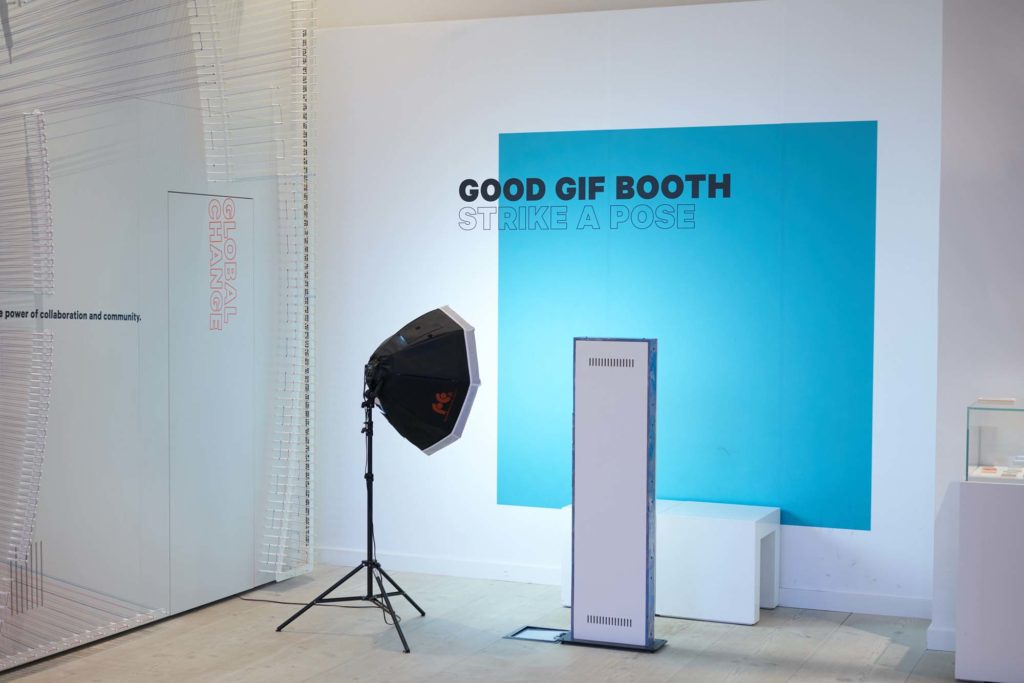 The museum is located on the first three floors, while the upstairs floors are occupied by offices, conference rooms and a large and open co-working space. The young entrepreneurs here range from Ambercycle, a company turning post-consumer textile waste into new fibres, to Bext360, a traceability Software-as-a-Service (SaaS) platform focusing on critical supply chains such as coffee, cocoa, seafood, palm oil, minerals, timber and natural fibres. 'There are about 70 people working here, all young entrepreneurs or companies in the field of sustainable fashion,' says Anne-Ro. 'There are flex-desks, so people can come and work or have meetings here whenever they want. It's great to have all these different people here with knowledge on various topics. We can ask each other questions and help each other connect to other parties.' This sharing of knowledge is essential to moving forward together, she enthuses. 'Traditionally, the fashion industry has been quite self-centred and competitive, but that attitude is gradually changing. In the end, we must work together if we want to save our planet.'
Although Fashion for Good has only been running for a year, it has already accomplished a lot. Anne-Ro explains, 'In our short existence, we've already managed to get around 13 corporate partners on board, so that's a pretty good result. It's an exciting year for us with a lot of pilots, such as a blockchain technology that gives insight into the whole life cycle of organic cotton, from production to spinner and spinner to consumer.'
As an educational platform, the organisation is also looking for extra sponsors for the museum and the possibility to develop programmes for schools. 'Educating the youth is super important,' Anne-Ro stresses. 'The earlier you can impact on someone's behaviour and knowledge of the fashion industry, the better.' Her excitement and enthusiasm are infectious. 'It's a super positive and inspiring place to work; I'm amazed on a daily basis by all the initiatives everyone in this building is working on. I couldn't imagine a more rewarding job.'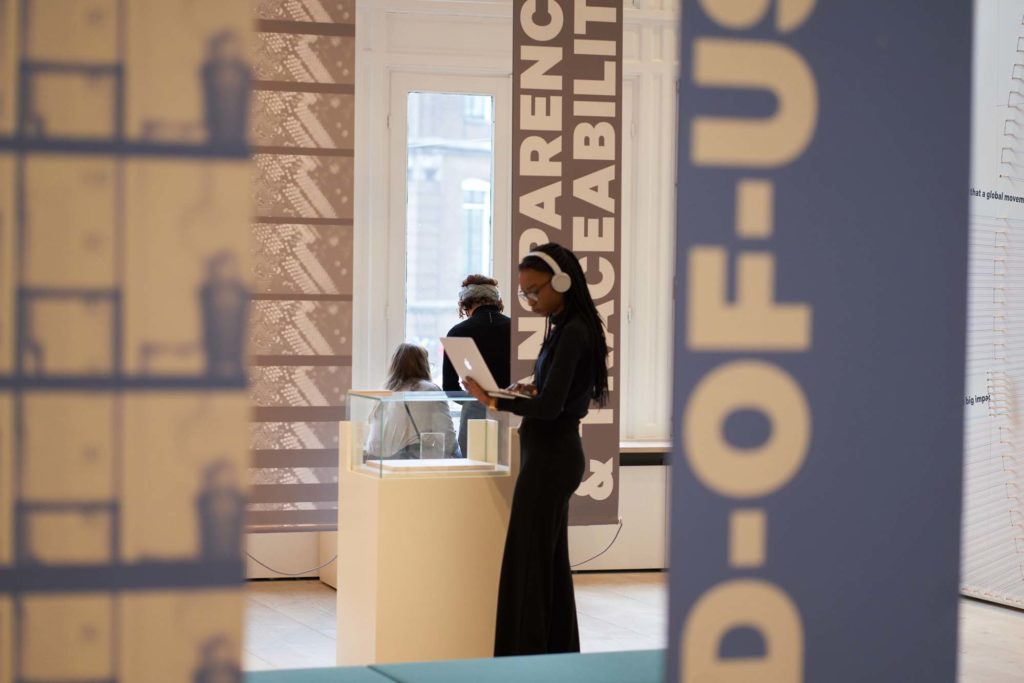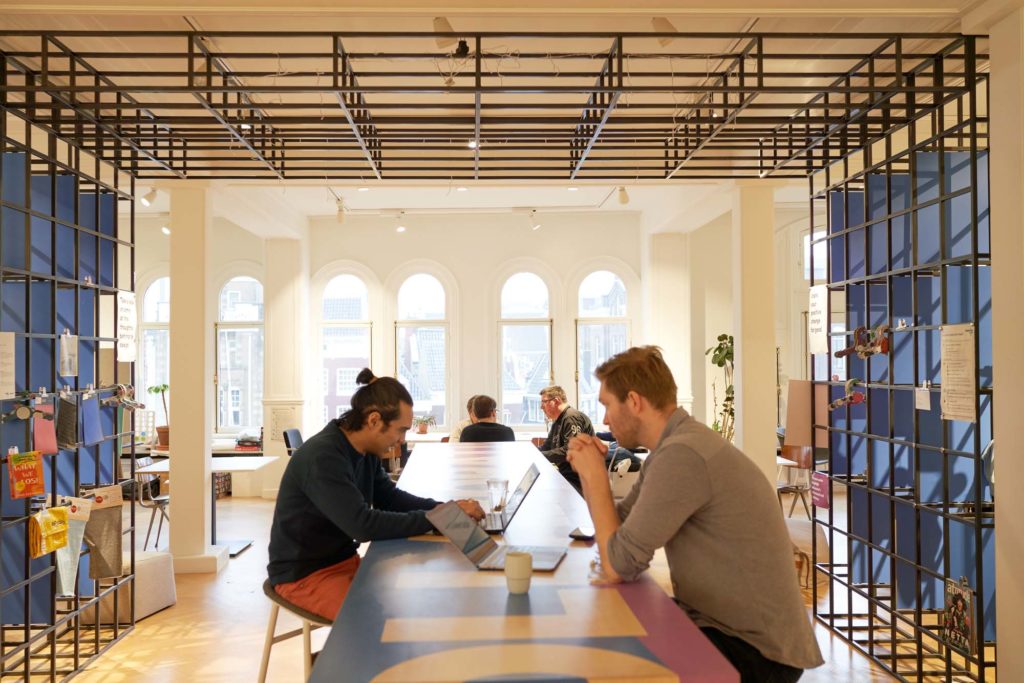 'In the end, we must work together if we want to save our planet.'
Of course, the real change can't be made by one player alone, it must be a combination of brands, governments, manufacturers and consumers taking responsibility. The profits of several fast-fashion chains have decreased as consumers realise it's not normal to have new collections in stores every fortnight. In February 2018, Swedish fast-fashion giant H&M – the world's second-biggest fashion retailer after Inditex – reported a 44% drop in first-quarter profits and an operating profit that fell by 62%, its lowest report in nearly 20 years.
In her personal life, Anne-Ro is a conscious consumer, but she is mindful not to impose her views on others. 'I'm not a missionary who wants to tell other people what they're doing wrong or should change. I also realize it's not that easy to invest in often more expensive sustainable fashion if you're on a smaller budget. But there are other options. In Amsterdam for example there are some amazing secondhand markets taking place almost every weekend. In my own circle of friends, I really see a change in people's behaviour and applaud private initiatives such as clothes-swapping parties or closet sales. This gives me hope and energy.'
For more information about Fashion for Good visit its fashionforgood.com.