London, Paris, Berlin, Ca' Tron… Do you see an anomaly? If so, you can blame that on old-world conditioning. Where once business chiefs needed to be at the centre of the most powerful capitals, the digital innovation hub H-FARM is proving to be a pioneering force from a farm nestled in the northern Italian countryside. And the key to its success is that it constantly seeks to meet the needs of tomorrow, according to H-FARM Co-Founder and Co-CEO, Maurizio Rossi.
The picturesque location of the H-FARM headquarters, just outside Treviso and one hour from Venice, was once earmarked by Disney as a possible location for its European theme park. Even though this greenfield site is surrounded by grapevines and maize, it is close to two airports and has fast rail links to Italy's main cities. Disney's loss is the world's gain, as H-FARM is quietly transforming how the most important multinationals do business.
When Maurizio founded H-FARM with Riccardo Donadon in 2005, it was the first venture incubator in the world (US seed accelerator Y Combinator launched a few months later). Maurizio brought 25 years of corporate experience. After graduating as a ship captain, his joined his family business, the Rossi Group, which was mainly involved in luxury retail and newspaper publishing. He founded a division of the group in the Nineties focused on adventure sports apparel and after the business was bought out by LVMH in the early Noughties, he wanted a new challenge. Riccardo had founded one of Italy's first digital agencies in 1997 and after a successful sale, he wanted to help young entrepreneurs achieve their dreams.
Working in adventure sports for 13 years fuelled Maurizio's unorthodox mindset, leading him to formulate H-FARM with Riccardo. 'Back in the Nineties it was said that the next rock music was going to be the internet and today we can see that has come true,' he says. 'We founded H-FARM based on three assumptions. The first was the impact that technology was going to have on all of our lives. The second was that the speed of exponential change was going to be very disruptive. And the third was that the new digital native generation of entrepreneurs, who can leverage technology in a very natural way, would be the driving force.'
Maurizio dresses in the ubiquitous, casual startup version of a CEO. His jeans and plain jumper are given an artistic, offbeat look with fashionable round spectacles and curly locks that would tickle his collar if suits were his style. His look may be relaxed but the day we meet, he is a flurry of activity, bouncing from one meeting to the next before we manage to catch him for a chat.
As we settle into one of H-FARM's sustainably built offices with solar panels on the roof, he is wrapping up a call with his 18-year-old daughter in Tel Aviv. Maurizio proudly explains how she and his 20-year-old son are both doing well at university there. This sense of family is also important in his business: he is keen to emphasise that while the company is hi-tech, it's all in aid of developing humanity. After all, the 'H' in the name stands for human. 'The key element behind the culture of H-FARM is people,' he says. 'This is a people R&D. Everything we have achieved to date is because of the people who work here. This isn't a company of a genius with a lot of worker bees; everyone has contributed.'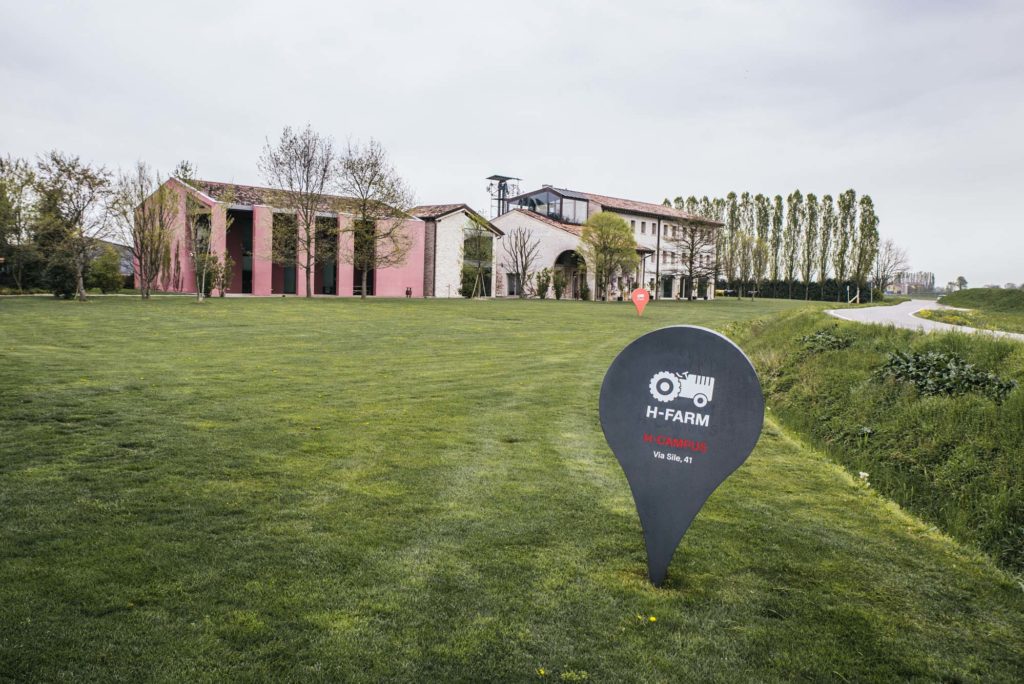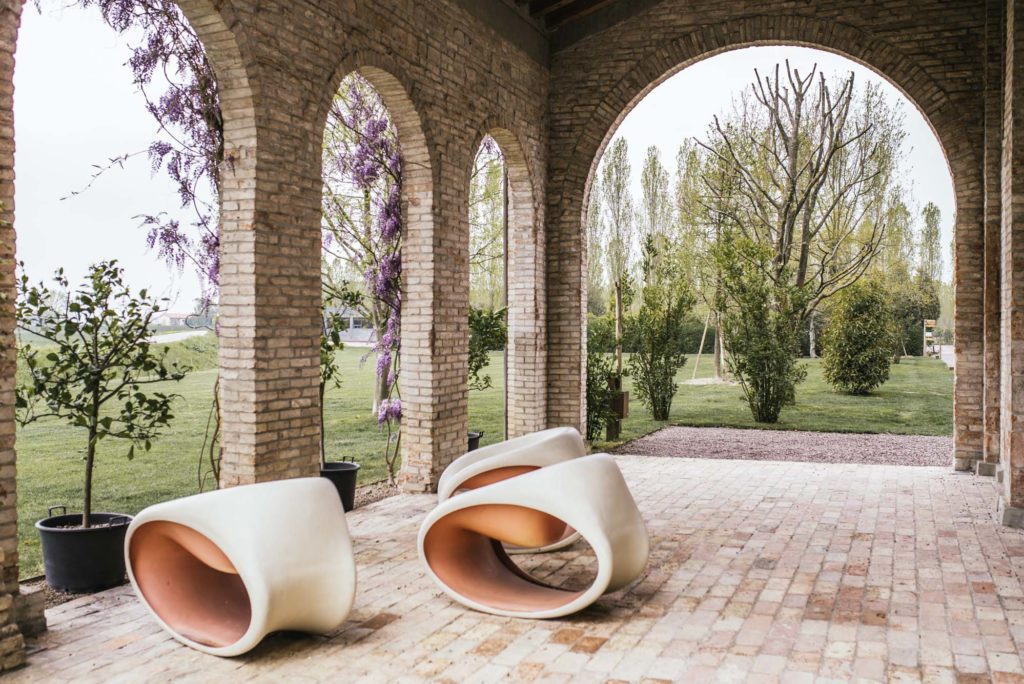 'We are successful because we keep updating and pivoting for tomorrow, because tomorrow is different from today.'
H-FARM's motto is 'Big shoes and beautiful mind', which is a direct translation of a local Venetian expression that means intelligence grows from solid roots in the land. For Maurizio, basing the headquarters in nature made sense, even though logistically it can be challenging. 'It was very important for us to have a good quality of life here and that people who come here would feel the same. One feels very well in nature. We picked this location because it was a cool place and unique; nobody else was going to try and make such a crazy location work,' he chuckles.
Maurizio and Riccardo funded H-FARM until 2009, after which angel investors came on board and then the company was publicly listed in 2015. Over the past 14 years, it has organically grown into a hub with a three-pronged focus on innovation, entrepreneurship and education.
In 2005, MySpace was the leading social network, Facebook was in beta mode and Wikipedia was gaining traction as a crowdsourced, user-generated content site. These early Web 2.0 communities inspired Maurizio and Riccardo to create a seed accelerator. To date, H-FARM has invested more than €27 million in 120 startups and after some profitable exits, its portfolio now stands at about 60. It also has a network of four million startups around the world.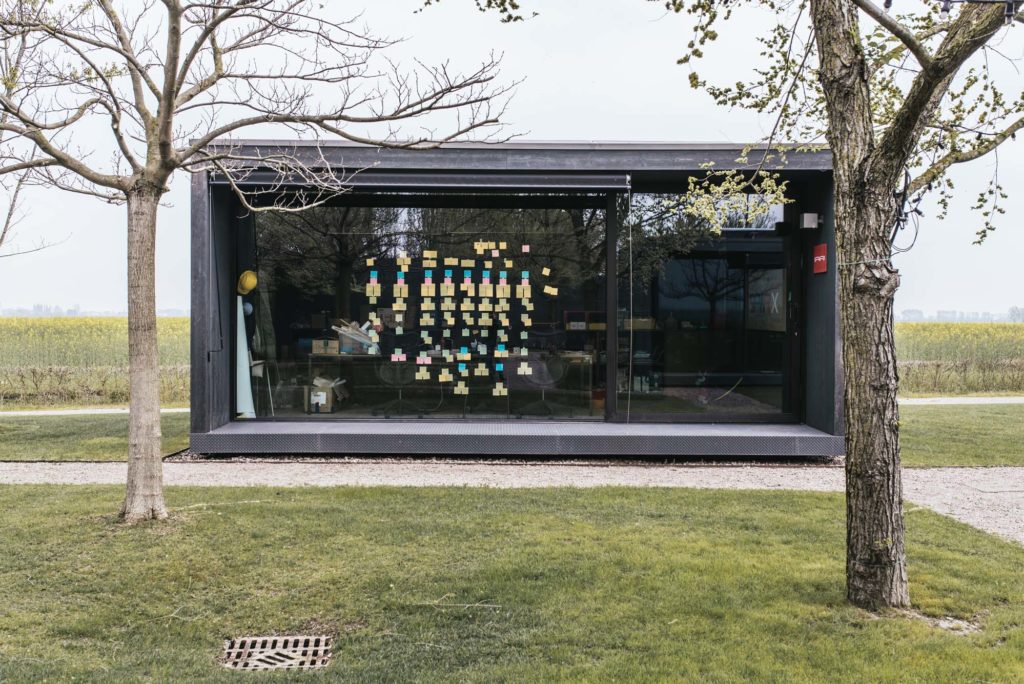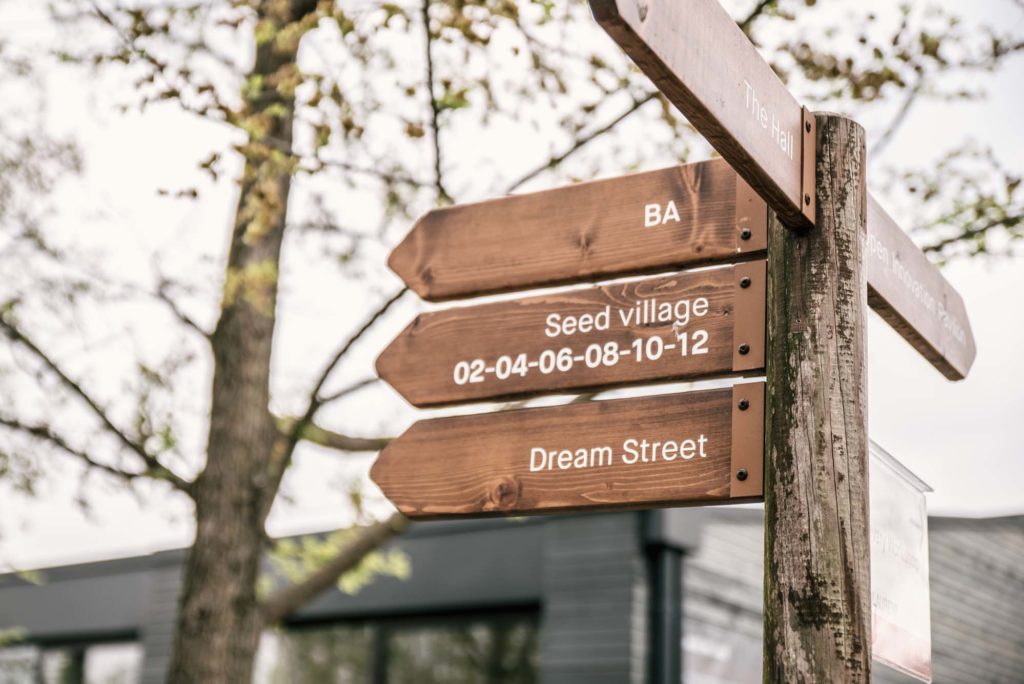 Although seed acceleration in the domestic Italian market was the primary focus at the start, Maurizio says they soon realised H-FARM could not match the venture capital giants of Silicon Valley and Israel. From their encouragement of entrepreneurship came the genesis for their innovation wing. Maurizio recalls: 'I said we need to define something that makes sense for H-FARM to play in this game. What makes us unique, and what is the challenge in Europe?
'It took 40 or 50 years to build the hi-tech ecosystems in Silicon Valley and Israel, whereas Europe is based around low-tech, such as the automotive industry and luxury fashion. This is the body of Europe and all of these companies need to transform. So then we realised we had the right experience from our years working in corporates and also the right connections with the startups we were fostering to be a consulting business between the two. That was the right move, as big corporations need this startup knowledge and it also helps startups develop.'
The innovation wing acts as a consultant to help traditionally non-tech multinationals such as Gucci, Henkel, adidas, Audi and many more find ways to utilise the skills and mindset of the global startup ecosystem so that they don't get left behind in the tech revolution. To date H-FARM has worked with 200 companies worldwide and 13% of H-FARM revenue comes from collaborations with international brands. On the day we visit H-FARM, Yves Saint Laurent staff are on site for a workshop.
Maurizio says: 'We are successful because we keep updating and pivoting for tomorrow, because tomorrow is different from today. We took the elements of humans, culture and next-generation technology and created a formula to show corporations that they need to restructure their culture so that every employee is engaged.
'I believe the future of corporations will be like co-working spaces. The decentralised, Holacracy style of management is similar to how H-FARM works, as everyone takes ownership and we show corporations why we do it like that. Once corporates are ready, we get them to start running programmes of open innovation and recruit talent for a new, tech-led team that can eventually merge with their existing team.'
'Education is broken everywhere in the world. The traditional education system was to create labourers for work but it doesn't help people develop. So what's going to happen now that technology is taking jobs?'
H-FARM has also become a key driver in education reform to help both children and adults improve design thinking, critical thinking and digital entrepreneurship. This method is revolutionising traditional methods of teaching by nurturing students' individual talents, allowing them to reach their potential through a dynamic programme that incorporates the development of soft skills and innovative learning tools. However, all of this sprang from humble roots.
When H-FARM started providing digital solutions to corporates, it became clear that applying these solutions would require training. Training workshops for corporate staff was the next logical step, which Maurizio and Riccardo took in 2012. Then they began to think about the needs of emerging generations born as digital natives and using digital tools in an entirely different way. From this came H-International School (H-IS) Treviso, founded in Ca' Tron in 2015, followed by another three schools between Treviso and Milan in Monza, Rosà and Vicenza. They have pupils from kindergarten to high school. H-FARM also runs a bachelor's degree in digital management in partnership with Ca' Foscari University of Venice, as well as master's programmes in computer graphics, virtual reality and concept art at BigRock. The student body has surpassed 1,1f00, an increase of 15% from last year.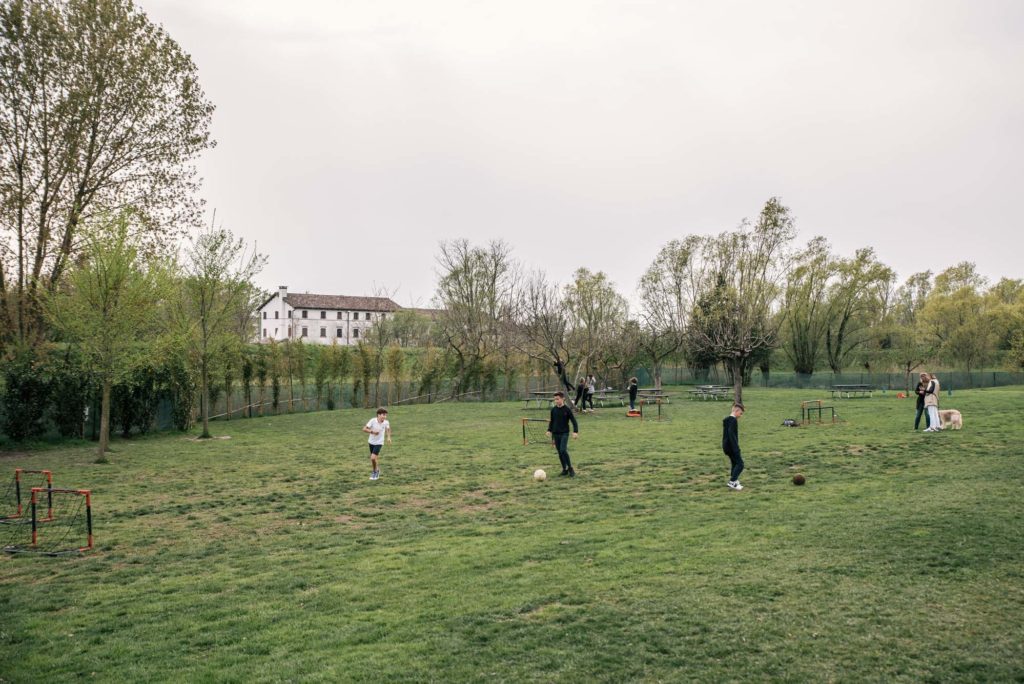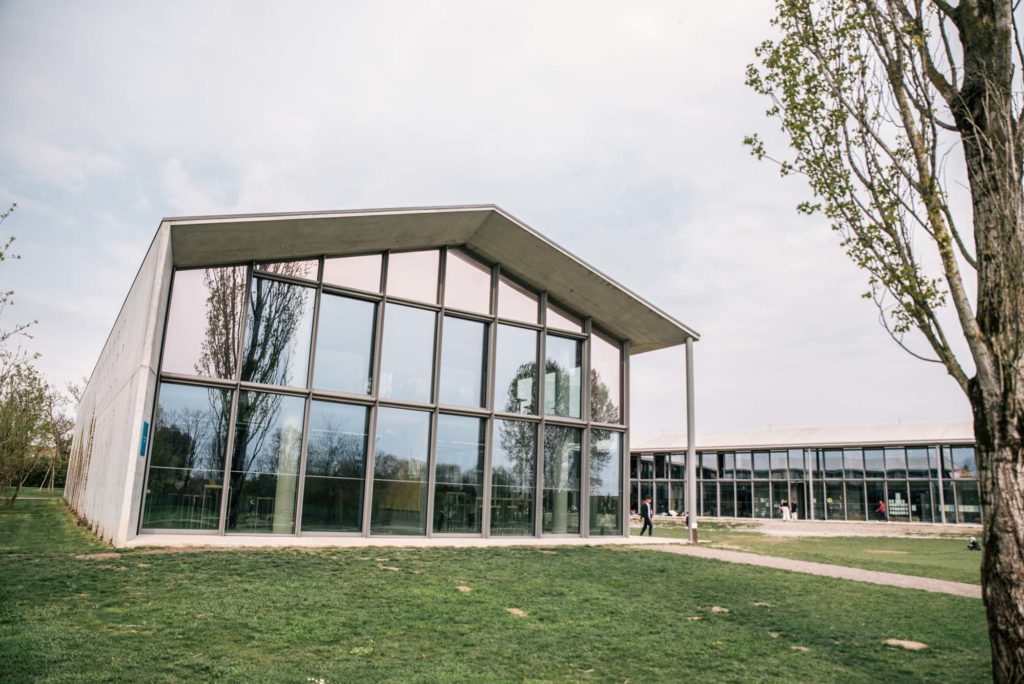 H-International School Treviso teacher Cameron Bragg
H-IS Treviso is a short drive from the headquarters and the location is just as scenic. The scent of the surrounding orange trees provides a welcome greeting as chickens cluck nearby. Lilac wisteria creeps around the entrance to the al fresco cafeteria, where the students lunch on dishes made with organic vegetables from the garden under a bamboo awning.
In the evening, the cafeteria becomes a restaurant open to the public. This is part of H-FARM's commitment to integrate with the community. Gaia Veronese, Press Officer, explains: 'We don't want to be in a bubble. Our charitable foundation wing holds free events every week which are open to locals. We also plan to open a library when our headquarters is extended, which the public can access.' Hiring local staff is a part of this philosophy and is echoed throughout H-FARM's other four offices in Italy, in Milan, Turin, Rome and Catania. A total of 625 staff (or 'farmers' as they are known here) work throughout the five offices.
Local workers are also set to be involved in the next big development at H-FARM: the construction of H-Campus at Ca' Tron, which has been delayed by red tape. A return of €8 million is expected for the territory if officials approve the project. Local architectural firm Zanon Architetti Associati is on board to design the energy-efficient and sustainable campus and the library is being helmed by British architect Richard Rogers, known for the Pompidou Centre in Paris and the Millennium Dome in London.
The campus will encompass a nursery, high school and university, with a capacity for 3,000. Maurizio predicts construction will take up to two years. The high school already has 20 boarders but it's hoped that being able to offer more boarding accommodation will attract foreign pupils. H-IS Treviso has 381 pupils, of which 80% are Italian, 13% are from elsewhere in Europe and 8% are from outside Europe. Maurizio says the extra space is badly needed.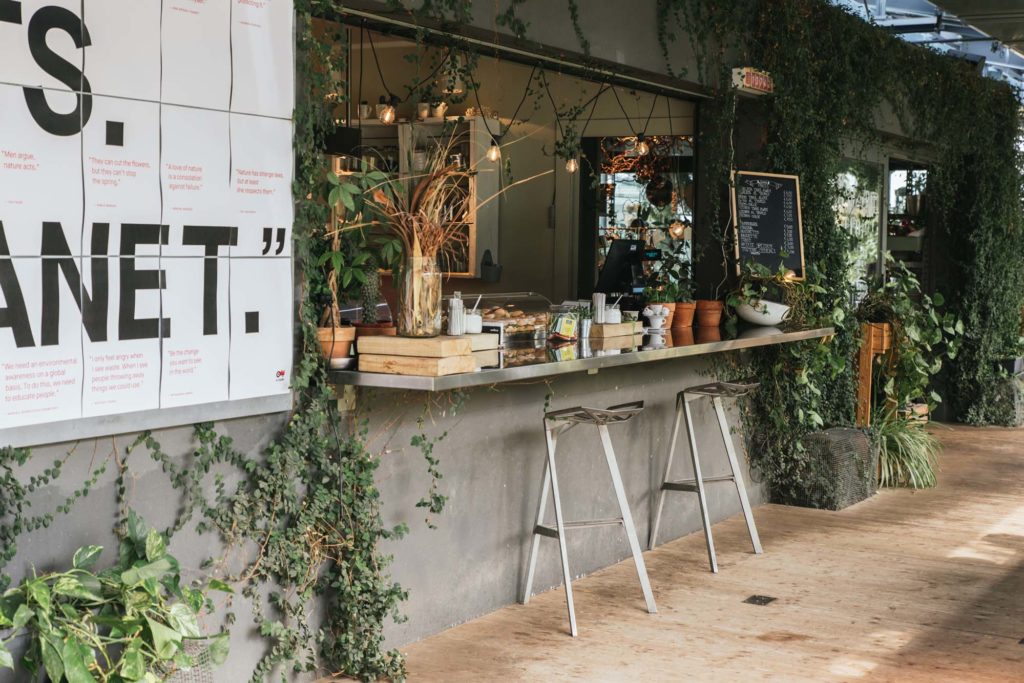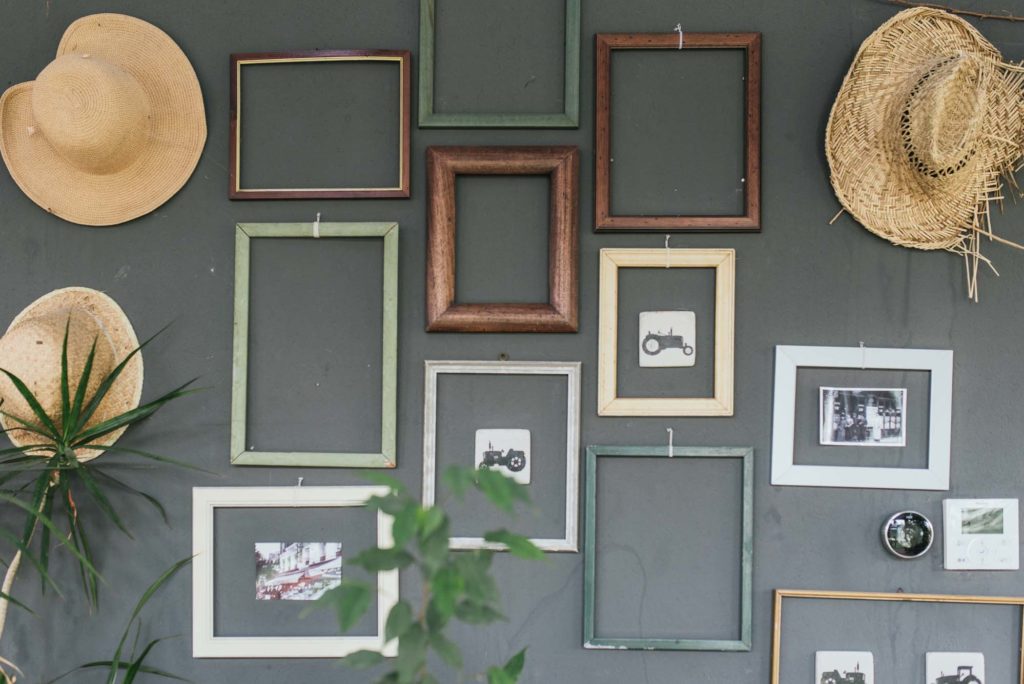 In the meantime, the education team aren't resting on their laurels. In November 2018 they achieved the Apple Distinguished School stamp of excellence for innovative learning environments. H-IS is one of the first in Italy to join the ranks of 470 Apple Distinguished Schools in 34 countries. The H-IS curriculum is a unique adaptation of the 51-year-old International Baccalaureate, which was initially created for children of ambassadors and adopted by H-FARM because of its flexibility. English is the official school language and pupils also study Italian.
According to Gaia, the curriculum shifts the focus from knowledge to skills. Pupils don't have set subjects but rather units of enquiry where they figure out topics for themselves. 'It's the opposite of the traditional type of learning where the teacher dictates,' she says above the din of excited chatter as pupils finish for the day. 'It's about developing their critical thinking, design thinking, even failure – every one of us has tasted the flavour of failure and it's important they know that this is something they can overcome.'
The 49 teachers come from a range of backgrounds; as well as Anglo countries they are from around Europe and South America. One of the Australian teachers, Cameron Bragg, was so impressed by the H-IS ethos that he moved halfway across the world to teach here.
Cameron was an entrepreneur before he began teaching in Australia seven years ago but became dissatisfied with mainstream education. 'I came from Australia with my wife solely to work in the H-FARM school, to do education in a radically different way,' he says. 'I think it's totally overdue a reshake, it's not serving society and it's certainly not serving kids. Big textbooks full of definitions are not going to help kids be successful in the future; they need to interact with people and apply things they're learning in a real-world context.
'I teach business and economics so my topics are very suited to H-IS's entrepreneurship and innovation model, and I love working here! A lot of our focus is on how entrepreneurial skills can be applied to every aspect of life, from relationships to school, to take initiative to see things that need action and to be the person who takes action.'
'I believe the future of cities is going to be creating real communities for people, especially the youth.'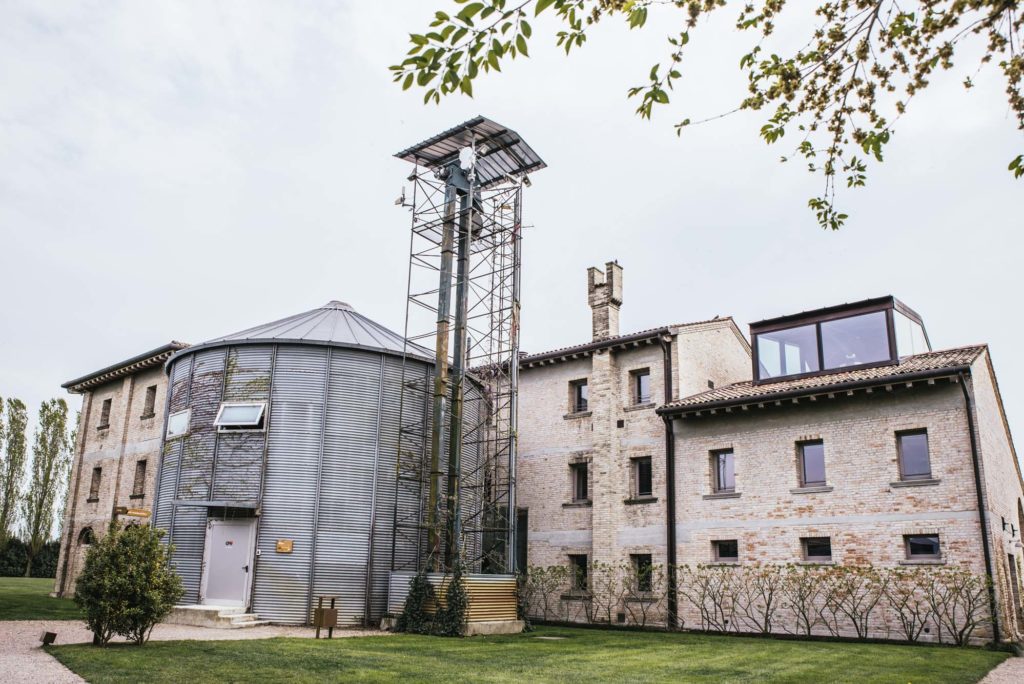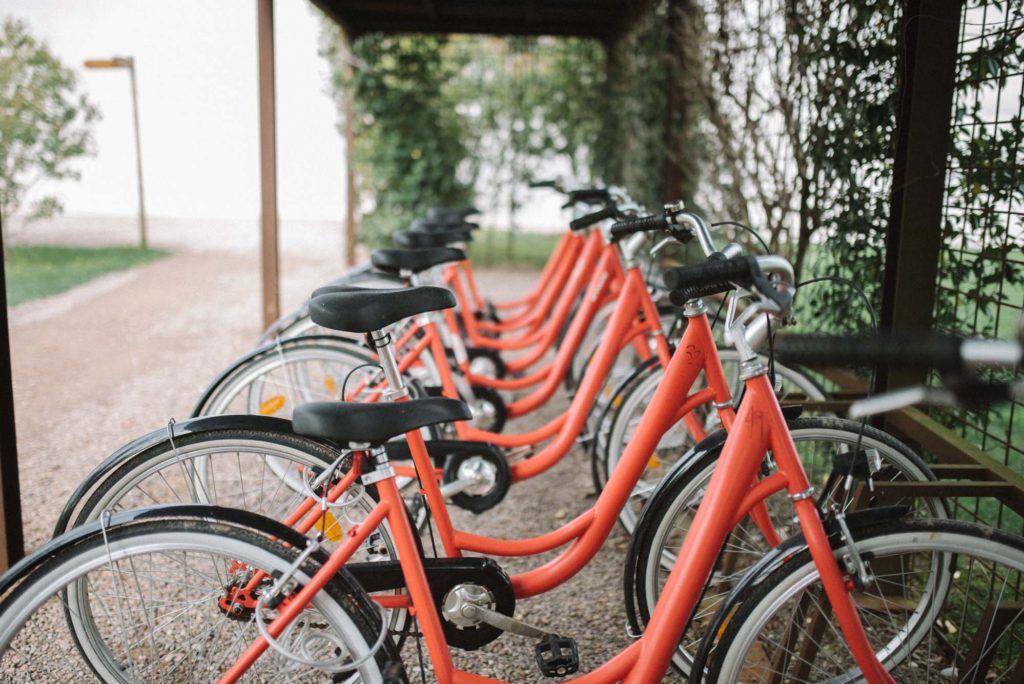 Maurizio adds: 'Education is broken everywhere in the world. The traditional education system was to create labourers because that was needed for working structures but it doesn't help people develop. So what's going to happen now that technology is taking jobs? The benefit of new technology is that we can reinvent society. Education is where everything starts and the role of education should be to enable people to fulfil their potential. So our vision is to connect technology with humanistic principles that help society.'
Part of the curriculum for 14-year-old first years is a social entrepreneurship programme known as the Acceleration Lab. Students are mentored by the onsite 'farmers' as they come up with community-orientated startup ideas, and some of the products have even made it to market. There is also an Ignition Lab where the school hosts inspirational speakers, and previous guests range from a US Army captain to a Michelin-starred chef. Cameron explains: 'This helps kids think about how people have overcome challenges to achieve success, and success might be, "I am the CEO of Gucci," we had him also last year, but it might also be, "I actually left a high-paying job to work in my community or study." There are different pathways to success.'
The H-IS fees are in line with other international schools in Europe, at €16,000 per year for high school, and the plan is to lower them as the schools are scaled. Scholarships are also offered. Maurizio says he hopes to expand the school network throughout Italy and internationally. H-FARM's first international hub opened in Barcelona in March 2019 and is being managed by Aleix Valls, former CEO of Mobile World Capital Barcelona. Maurizio enthuses: 'Barcelona is competing with Berlin, it has the highest number of digital nomads in Europe and it has an interesting startup ecosystem. Aleix has access to the market there and we have the infrastructure so it's a good union. It only launched a month ago and Aleix is already looking at expanding to Valencia, Madrid and other cities. We're also in conversations with teams in Berlin to see about forming partnerships there.'
The trend of co-working and co-living spaces in cities is only going to accelerate, according to Maurizio. 'I believe the future of cities is going to be creating real communities for people, especially the youth. Co-living and co-working will be basic infrastructure, probably managed by players who can connect to institutions and investors. On a smaller scale that is what H-FARM is. Millenials need places just for them that will help foster their talent and also attract talent, like the way artists were drawn to cities like Berlin, New York and San Francisco and this created that disruptive culture element that led to the rise of those cities.'
Maurizio believes it is up to millennials to create these changes. 'Unfortunately there is a big inertia in Europe because the old generation still dominates everything. The young generation is the first global generation. They share a lot of common things despite their diversity. This generation needs a new lifestyle; it has new principles, such as sustainability. That's why youths need to be empowered with the right education and tools to change the world.'
For more information about H-FARM visit its website.