Festivals have long been a celebration of culture, of the arts, of life itself. But their expansion into the mainstream has also unfortunately increased pressure on resources and created mountains of waste that end up in landfill. Thankfully, in recent years awareness of the impact that this revelry has on the planet has brought about a shift in attitudes among organisers and attendees. Terraforma is one such festival focused on making environmental sustainability key to its working practices.
Leaving the heat and the crowds of Milan behind, the bus transporting festival-goers zooms north and the roads become quieter and more picturesque with each kilometre. As the bus whizzes past blossoming fields, excited chatter builds among the passengers, before suddenly a waft of lavender from surrounding fields heralds our arrival at the imposing 18th-century Villa Arconati.
'The small Versailles of Lombardy', as Italians call the northern Italian villa, is the site of Terraforma, an electronic music festival on its fifth edition. Terraforma is proudly advertised as 'experimental and sustainable', marking this cultural project in the French-inspired gardens as one of the increasing numbers of festivals aiming to go greener.
Whether a zero-waste methodology can ever be achieved when large groups of people congregate in open spaces is debatable. But as the consequences of mass plastic pollution and ever-dwindling resources become increasingly clear to the mainstream, even the dancefloor has started to look like a necessary place for improvement.
To address the environmental impact of festivals, organisers have started to employ innovative techniques which have led on from the early days of environmental responsibility such as Burning Man's commitment to 'leave no trace'. Terraforma has utilised a broad range of methods to do its bit, including building the festival with environmentally friendly materials, taking a creative approach to restoration efforts in the venue's gardens, forming partnerships with ethical corporations, and providing post-festival impact reports on waste, supplies, mobility, energy and water consumption. These efforts reflect the growing interest to preserve resources, as well as serving the vital function of instigating a public dialogue on responsibility among festival-goers and organisers.
'You can always do more,' says Leone Manfredini, a member of Threes, the agency that produces Terraforma. 'That's something that keeps me going and excites me… a work in progress.' Leone says that Threes seeks not only to reduce the environmental footprint of the project, but to also 'do something that remains'. These sustainability goals are deeply related to preserving Italian heritage. Site-specific performances are 'applied to the development of locations which are already soaked with a cultural background… We have a lot of history and we have to keep it alive.'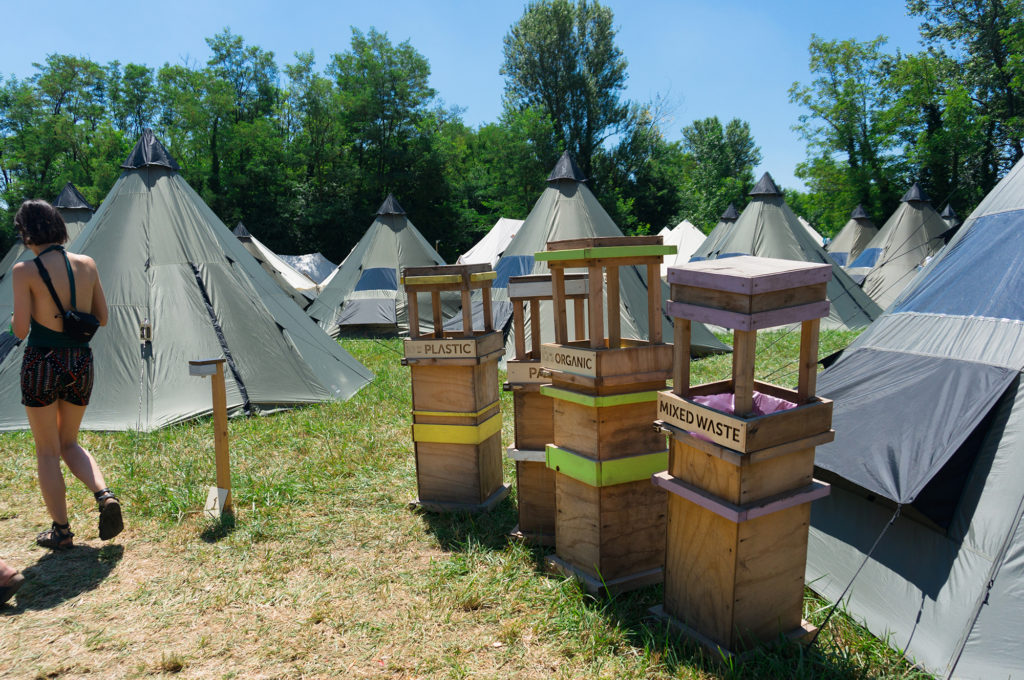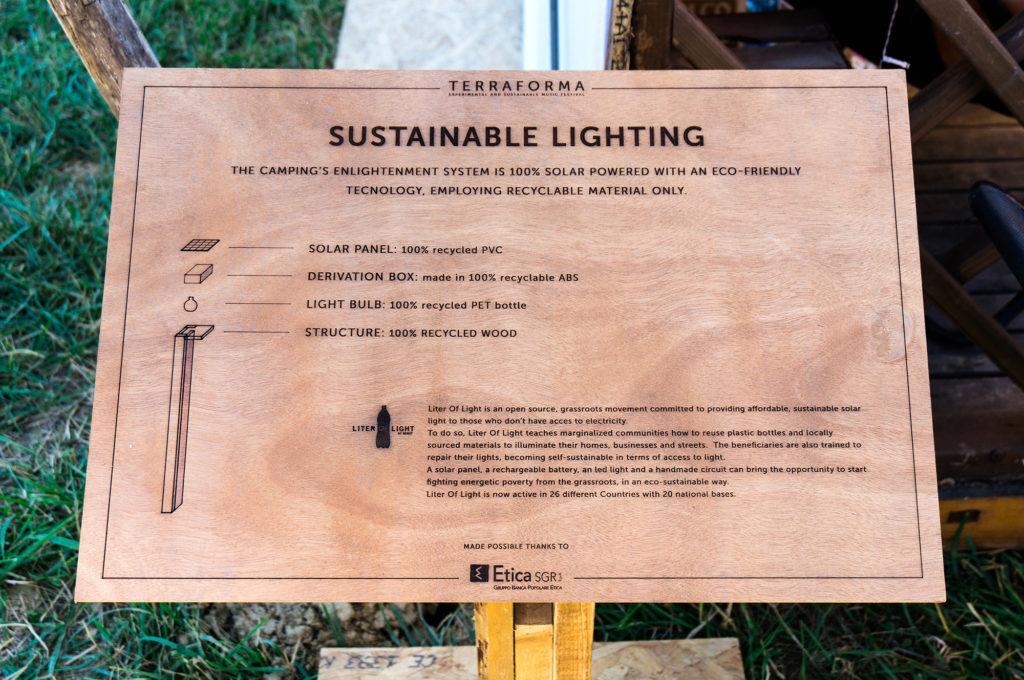 In reference to what the the organisers call their 'cultural sustainable approach,' Terraforma has revived the unkempt grounds of Villa Arconati. The producers have also began work on restoring the original garden labyrinth that once made the villa famous. Based on the 1973 engravings of Italian Marc'Antonio Dal Re, and with the aid of the cultural organisation Fondazione Augusto Rancilio, the inner maze of the 'garden of delights' was completed for the 2018 edition. There, revered electronic musicians created an instrumental installation.
Using the villa as a springboard for innovation, Leone says that the festival always encourages its sponsors to participate in special greening projects. 'What we wanted to do through the festival was to start work on this place, start to put it in order, do some gardening projects and things that would be useful, not just for our festival but useful throughout the rest of the year,' he explains. The labyrinth was developed with the help of cosmetics company Borotalco. And a whiskey-maker funded the compostable cups distributed throughout the festival bars. Leone says that even with corporate link-ups, the festival aims to uphold its community-oriented principles. Another sponsor is EticaSGR, an ethical asset management company focused on socially responsible investments. As well as helping to design and develop the solar-powered lamps across the Terraforma campsites, EticaSGR also funded the electric cars used to transport artists and offset emissions, as well as producing the reusable wooden festival signs and bins for waste and recycling collection. In 2016, EticaSGR collaborated with Terraforma to create a system to measure the festival's impact regarding collected waste, supplies and vehicles, as well as energy and water consumption.
'We have a lot of history and we have to keep it alive.'
While the first edition of Terraforma managed to eliminate 44% of festival waste, 2018 aimed for a full 60% through recycling, organic waste composting and the separation of rubbish. Leone says that with these numbers, the waste processing of Terraforma tends to be more successful than most towns. Terraforma has also brought in a no-plastic straws policy, aimed to limit the use of ice, provided biodegradable soap in the on-site showers, and offered portable ashtrays to participants.
Terraforma's infrastructure is also created sustainably. Reusing the wood from former years' stages, architecture students from the Politecnico di Milano helped to design many of the benches and chairs throughout the site and were credited for their participation. Conscious of the European refugee crisis, Leone adds that for the 2018 edition, workers from Africa were hired to help with construction and taught carpentry skills, for which they received a diploma.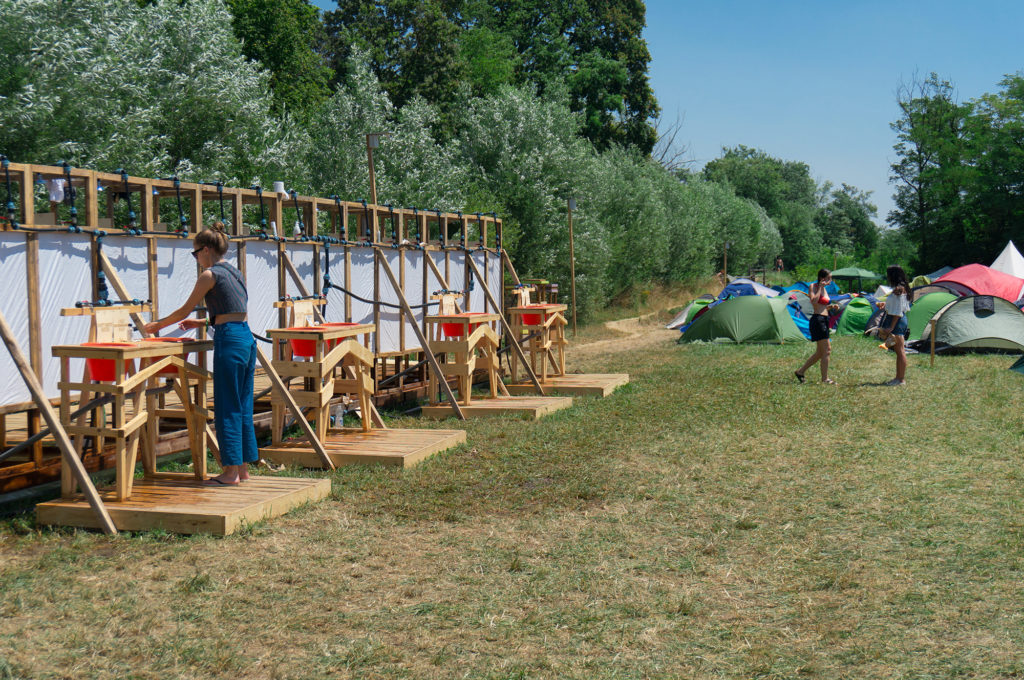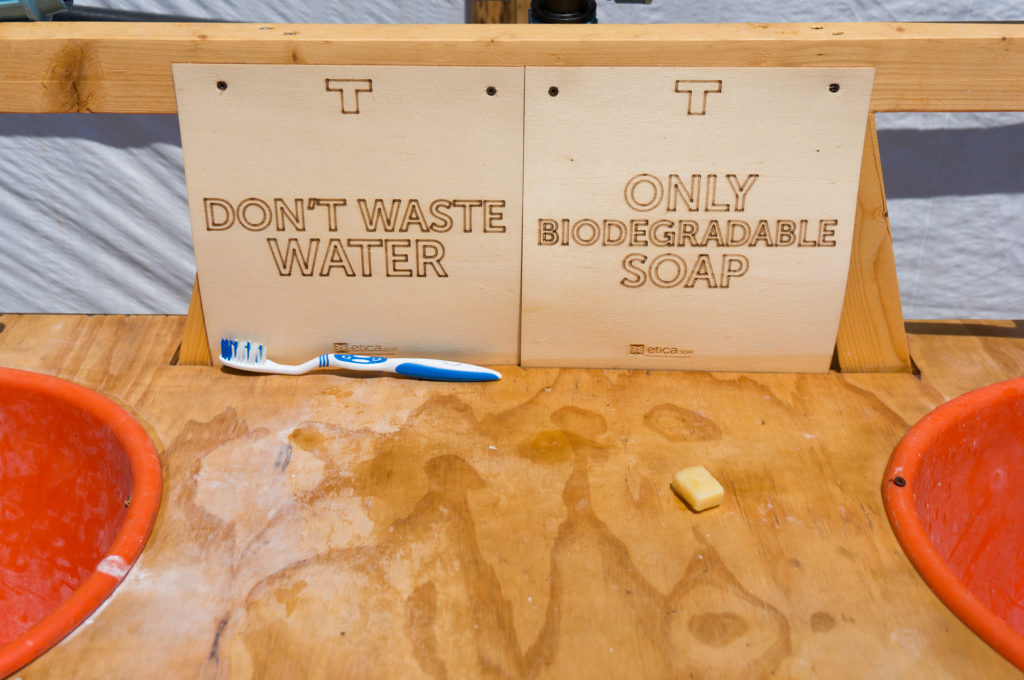 However, one of the biggest sustainability issues for Terraforma and the villa, as well as for other off-the-grid events, is the lack of on-site water and access to electricity. Organisers currently have to bring in water tanks for drinking and washing, and construct sinks throughout the site for hand washing and bottle refills. This still doesn't cover all of the water needs of the festival, however. Staff are encouraged to use refillable water bladders but water bottles are still sold at the bars, which inevitably results in plastic waste. Showers are restricted to certain times of the day but improvements need to be made to better anticipate need and encourage responsibility in consumption. Leone explains that there is an economic challenge to relying entirely on water tanks and says that the plan for 2019 is to distribute refillable water bladders to every attendee. The organisers are also in dialogue with the local government about supporting the festival's green initiatives.
The organisers have been looking into using solar-powered generators to cover the festival's electricity needs. Although the Italian-made prototype wasn't completed in time for this year's edition, Leone and the team are hopeful about its implementation in 2019.
Also included in the festival's ongoing sustainability effort is the transformation of the event into an all-camping model (as opposed to having an allowance of daily walk-ins). With this model, Leone hopes to create a connected community that puts into practice the slogan of sustainability that hangs at the entrance gate. With 1,500 campers making up half of the 2018 attendees, Leone says that future festivals will aim to remain intimate while teaching the crowd how to be responsible revellers.
This edition of Terraforma saw the appearance of the not-for-profit organisation A Greener Festival (AGF). With their team of independent environmental auditors, this sustainability alliance helps to evaluate, grade and encourage greener practices at events around the world. Two members of the AGF team met Leone and the Terraforma sustainability team to go over their 56-question checklist of green priorities and analyse whether these are being implemented at the festival. The organisation also offers Environmental Assessor training courses for interested festival planners seeking to improve their knowledge of environmental issues. Each year, AGF gives the Greener Festival Award to events and festivals making outstanding strides in environmental improvements. In 2017, AGF awarded top marks to the UK's Green Gathering, Norway's ØYA Festival, We Love Green in France, and the Wood Festival in the UK. Roskilde Festival in Denmark, DGTL festival in the Netherlands and Primavera Sound in Spain received  honourable mentions. In 2016, Portugal's long-running Boom Festival made it to the top of the list.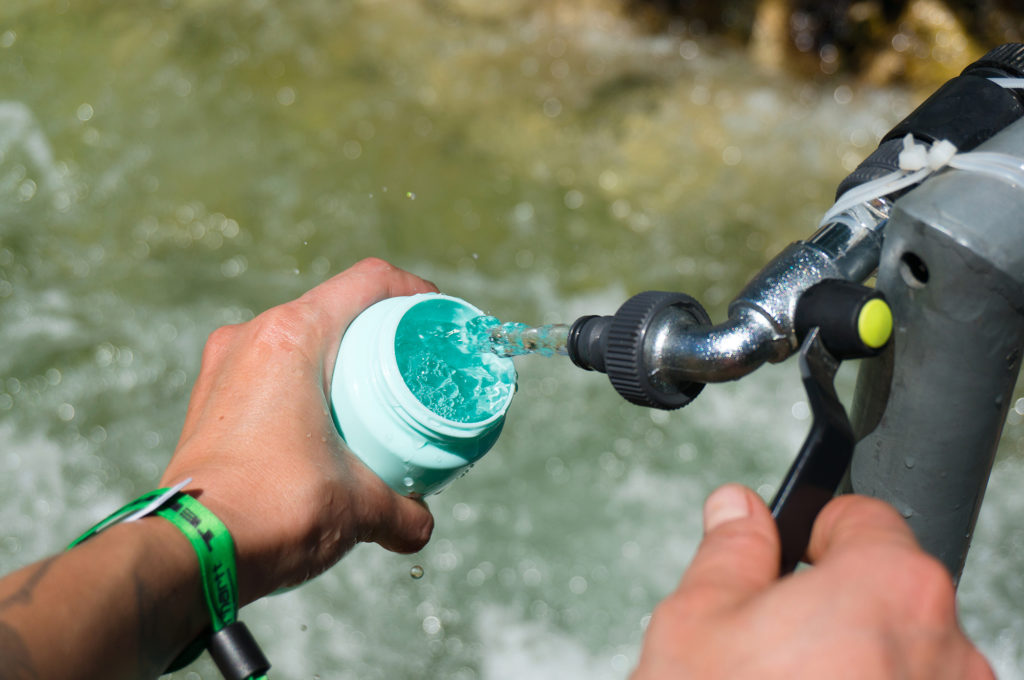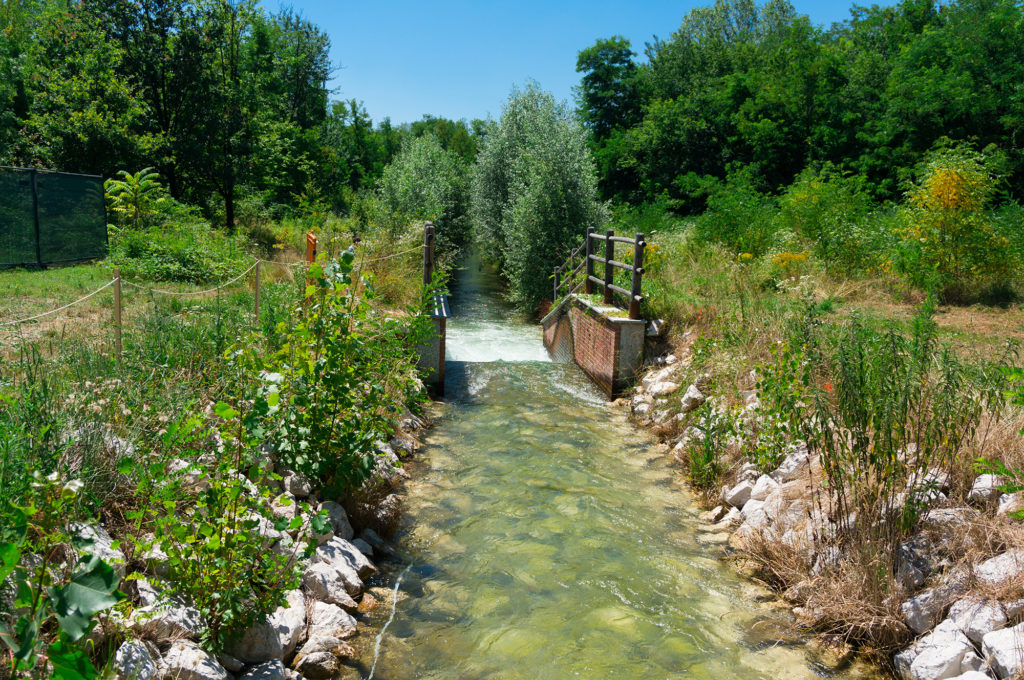 As Claire O'Neill, co-founder of AGF, explains, 'Events which have achieved the Greener Festival Award … have shown an incredible dedication to walking the talk, minimising the environmental impact of their events, and using them as a positive and much-needed portal for change.'
Although they haven't yet made the cut for the AGF winner ceremonies, Leone is hopeful that Terraforma's audience is paying attention. He is committed to promoting awareness of environmental issues and says that sustainability practices have started to have a positive impact on team members who were formerly unfamiliar with sustainability. 'It permeates, it goes everywhere. It's a journey.'
As the word Terraforma implies, 'earth shaping' is the deliberate process of modifying an environment to make it more habitable. Becoming more sustainable in the way that we live, work and play, both in urban and rural environments, is essential to the human race's survival. By finding ways to minimise the impact of our actions, we are slowly finding ways to reverse the damage already done by mankind in a way that brings communities together.
Music has often played an important role in bringing people together for political change. And now the festival space is also a podium for a dialogue on sustainable living. Yet, better seen than heard, it is action that demonstrates change. Thanks to the efforts of green music festivals such as Terraforma, the benefits of improved production methods are becoming more obvious.
As the author Patrick Ness once said: 'Worst is the one who knows better and does nothing.' It feels like finally, we stand a chance of hearing the music play on in the great outdoors.
Check out Terraforma's 2019 edition next summer at Villa Arconati.