Sebastian Steinbach is the owner of Black Sheep, an independent freeride ski shop based in Munich. He has seen not only a change in the winters, but also in the attitudes of his customers.
Have you felt any effects of climate change in your life and work?
Yes I can definitely see the effect of climate change on the ski industry and the skiing lifestyle. I've been working within the ski industry for the past 15 years and have been running for own shop for the past decade. When we look at the last four winters, for example, there was actually no real snow before Christmas. When I think back to when I was a child, there was always snow in November and December, so the winters are shifting a little bit, everything is happening a month later. In the past, the core season when everyone wanted to go skiing used to be December, January and February. When you take a look especially at the last three winters, in most resorts there was no snow during Christmas, there was only fake snow, and of course that looks different and a little bit strange.
In my shop we sell products for people who love to go to the mountains and what we've been seeing is that they're holding back on buying their supplies. In the past there were so many early adopting customers who would buy in October, November, the shops were packed at that time, and now everyone is kind of waiting. It's like a waiting game – when does the snow really fall? Is snow coming? Or is it just getting cold but there is no real snow? So from this perspective we can definitely see the impact of climate change. The winters are becoming different and the weather is changing. The weather in the Alps is becoming more unstable; where in the past we would have had winter for three months, now temperatures fluctuate during the season and that's definitely climate change. Obviously I provide products for the winter industry so those of us in the industry want to protect our winters and we want it to stay. Finding solutions to make that happen; that's the big question for the future.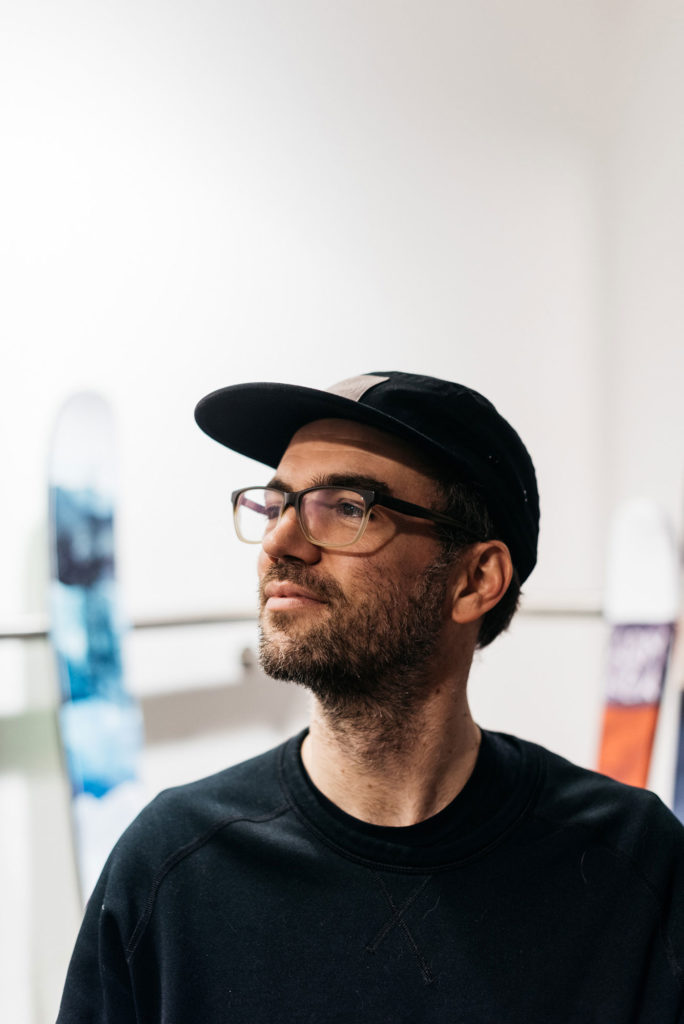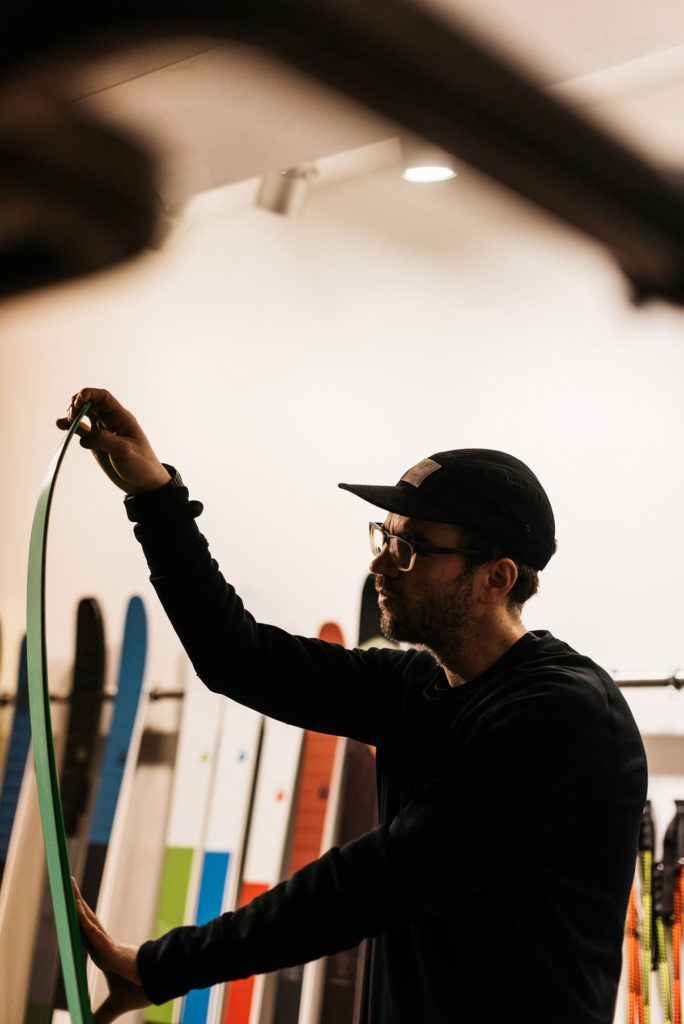 "The winters are becoming different and the weather is changing. The weather in the Alps is becoming more unstable."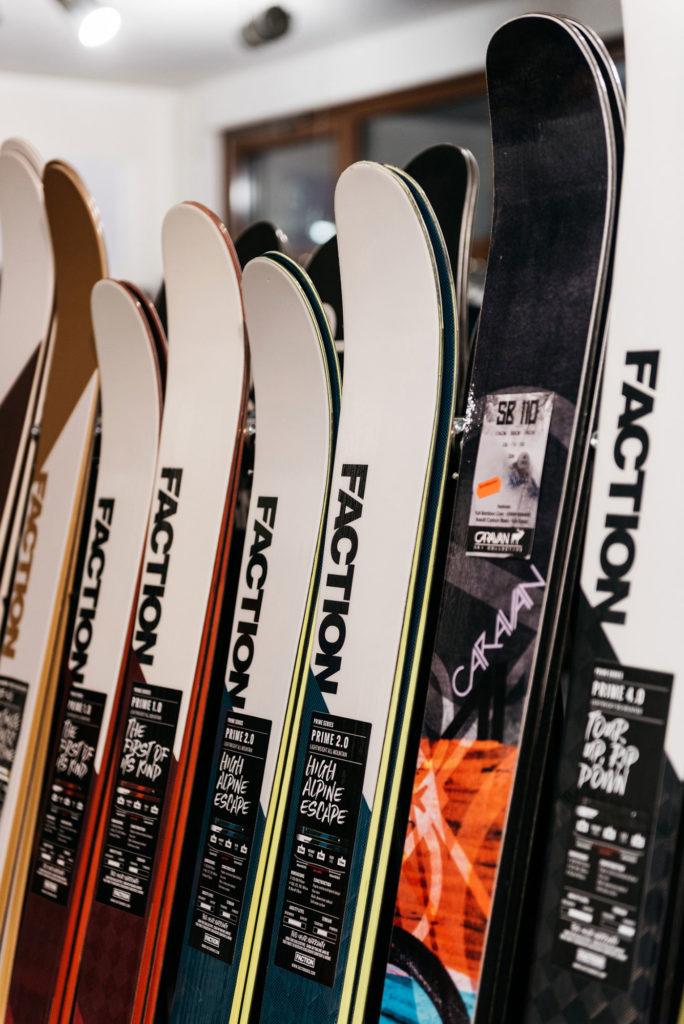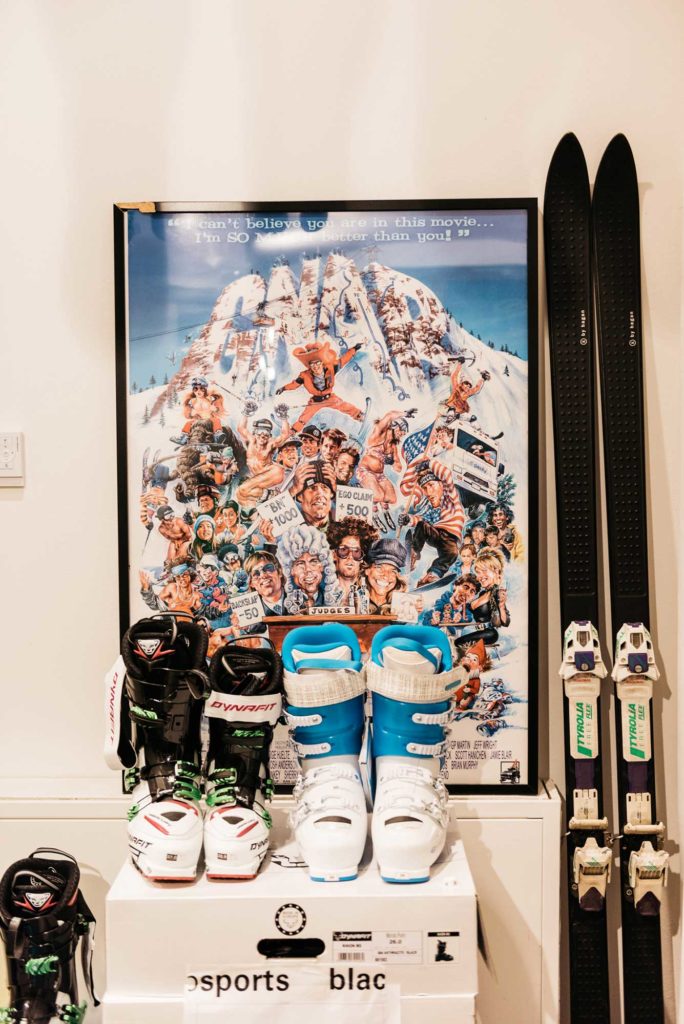 What do you think about the use of artificial snow at resorts?
These days no ski resort can operate without artificial snow, or as I like to call it, fake snow! Even if it's snowing a lot in winter, customers want to have perfect slopes all the time. They don't want to have runs on the mountain that have high bumps which make it difficult to ski. When I learnt to ski, about 30 years ago, the same ski resorts became more and more difficult over the season because there were not all these machines that flattened everything out so that it was super firm to ski. Nowadays the tourists want to have everything easygoing, and for that you need fake snow. Artificial snow is easier to work with, it will last longer and even when it's still 5C you can start throwing on your snow guns and fire up snow on the mountain, so it makes it easier for the resorts to get prepared.
Many ski resorts are getting bigger; more chairlifts, more gondolas, more trams – you can't even freeze any more in a chairlift because it's heated in most resorts! All of that together only works with making artificial snow. So that's part of the problem and for the resorts sometimes it's part of the solution because they have to offer perfect conditions. Sometimes or most of the time that's only possible with a lot of snow guns.
It's a difficult issue because we also benefit from perfectly prepared piste conditions; they're great to ski on. On the other hand, there used to be resorts where you could really feel the heartbeat of skiing, like Lech in Austria, where you had to be a really good skier to ski there. But now everyone can go there because they're so much more comfortable for the customer. Twenty-five years ago it took years to learn how to ski, now with all these easy products you can do it in days, and that all comes back to the artificial snow. The industry is trying to please the customer and artificial snow is part of that, but for the climate and nature it's a problem because how do you make artificial snow? If you want to make a good one you need chemicals, and where do they go? They end up in the groundwater, and so into the plants, the trees, and who is drinking water from the rivers? The animals. It's like a vicious circle.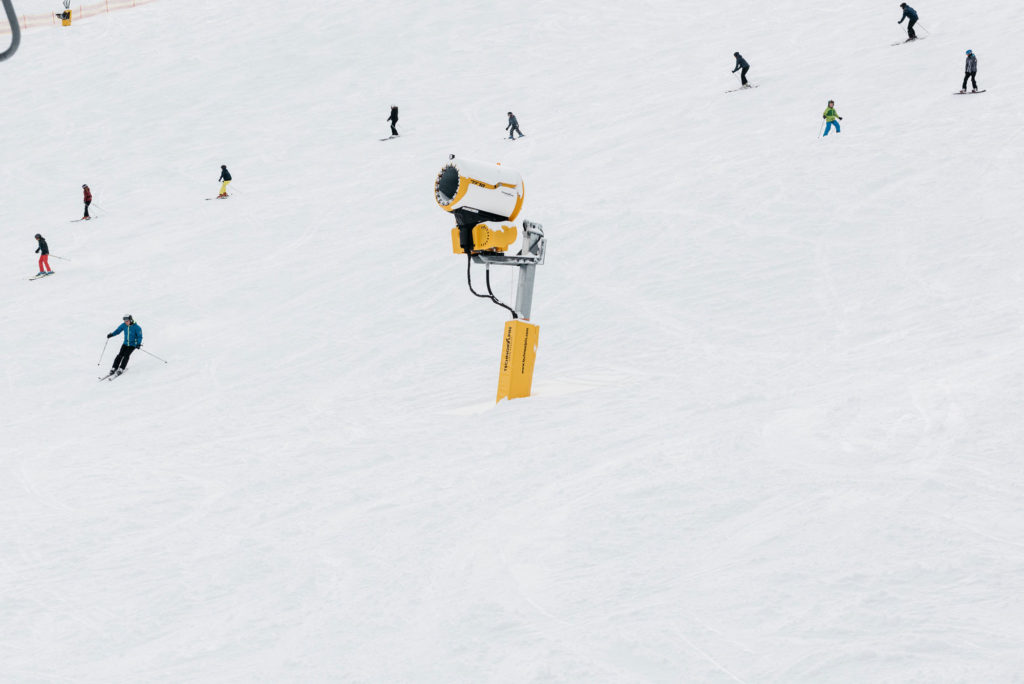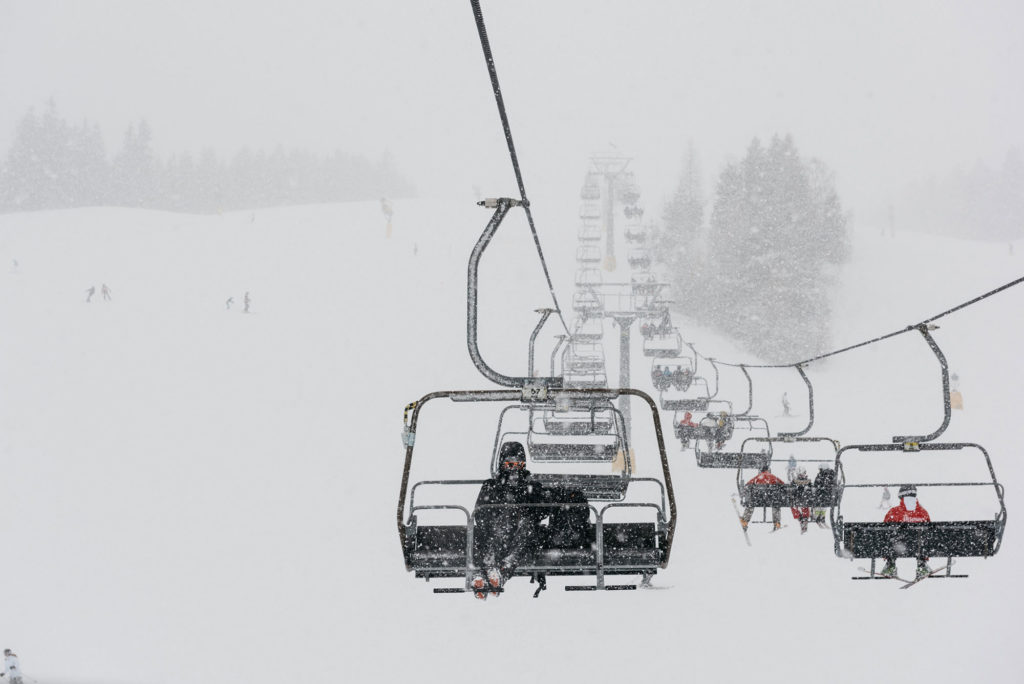 Have you seen any changes in the number of skiers coming to the Alps each winter?
Yes, the amount of skiers has been reducing actually because skiing is expensive. Fifteen years ago you sold three million skis and now the same industry is selling 300,000 skis, so it's breaking down. At the same time, the rental business is growing and other things are growing, there's more artificial snow and there's the problem of how the products are being made. There are some issues and when they come together they make a problem. But of course from a tourist perspective you don't want to see the problem, you just want to have a great time because you're paying for it.
At the same time you're obviously very passionate about skiing and you want to encourage people to ski. Does that ever feel like a conflict?
Of course you could say the industry is part of the problem, but I think we're also part of the solution. We are starting to look more towards sustainable products and I can see a shift within the customer mindset in the past ten years or so towards these eco-correct products. Previously there were interesting eco products coming out but the customer was not ready for them or they weren't willing to pay extra for them. Now there's more eco awareness in different industries, such as the rise of electric cars and solar panels, especially in south Germany where everyone wants to build their own house, you can see solar panels everywhere! So the mindset is changing and we could see that in this season, for example an eco product we sell is becoming more popular in our shop. We always tell customers the story of how the product is made in an eco-correct ski plant. You won't necessarily ski better because of how it's made but maybe you'll feel better, because at the weekend when you're driving towards the Alps in your super expensive mini-van, Jeep, SUV or whatever car, you're definitely leaving a footprint somewhere but at least you can buy a product that was made with a sustainable background, out of recycled material. We try to showcase products in our shop that go against the mainstream; the mainstream is still selling products made in the Far East that are flown over. So if we sell products made sustainably in Europe, that's part of the solution for the future.
Do you discuss climate change with others in the industry?
I meet a lot of people in the industry through my shop, so you naturally become part of a network of pro skiers around the world. Even by following people on social media you can see in North America and Europe, skiers are standing up to their governments and saying, 'Hey, listen, there is climate change!' There is a foundation called Protect Our Winters doing great work. World-class skiers, freeriders, backcountry skiers and mountaineers are part of that foundation and they really speak up to governments. Also it's interesting to see certain brands now, when they sponsor a professional, they're telling them that they do not want the skier to take a helicopter to the mountain, they want them to skin up because that's their philosophy, you don't have to fly everywhere, why not just walk up? So things are changing and it's good because things need to change. You can see it in the mindset of professional skiers as well because if this is something you choose for your profession then you have to do something to preserve it.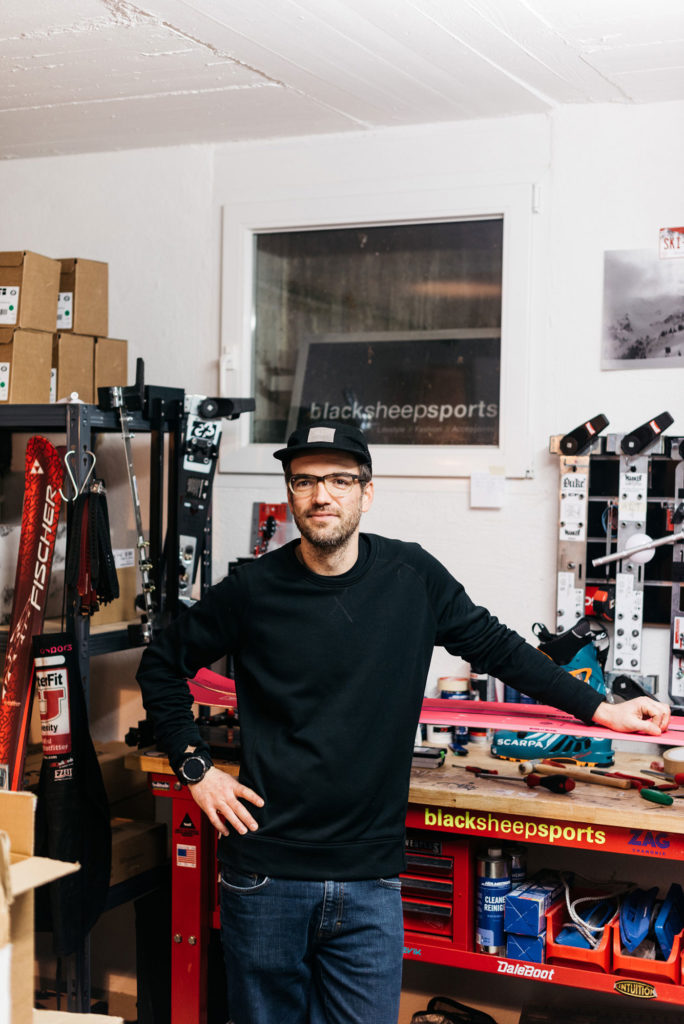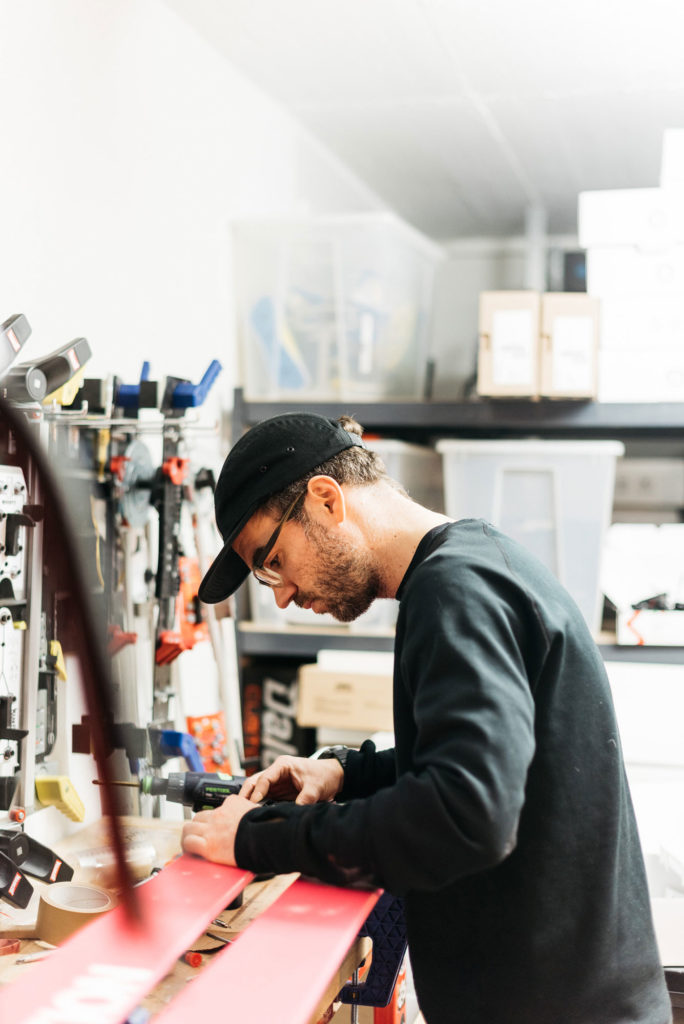 "I see a light at the end of the tunnel that we can make it, and that also our grandchildren can still benefit from the Alps."
Do you think skiers are seeing the effects of climate change on the mountains?
When you have around 150-plus ski days per season, if you didn't see it, you would be an idiot. Everyone within the ski industry who spends their time on the mountains, it doesn't matter if it's winter or summer, you see it and feel it unless you're walking around with eyes closed. Just look at the glaciers. Professional skiers need to keep a check on where the crevasses on the glaciers are to know what to expect in winter so they take photos of them during the summer months. I have a couple of pro skier friends and in the pictures they take you can see all the time that it's changing. And the glaciers don't look close to how they were 25 years ago. Twenty-five years is nothing in the context of how old the planet is. It's not even a click of the fingers, but within the last 25 years so many glaciers are so close to disappearing. So we have to do something to change things.
There has always been a real community feel around your shop, is that important to you?
Of course we are trying to build up a community with the shop, that was one of our main goals. The products we offer are designed for the backcountry skier. In the backcountry, in the off-piste section, there are no chairlifts, no gondolas, nothing. In the last couple of years our shop has gone more towards being on the mountain with your own power, away from the masses where all the tourists are running around. Being back on an adventure and really enjoying the Alps, the scenery and the calmness. When you're skinning up the mountain with your own power and there's just silence, that's something that's just so awesome! Most people live in big cities and there's never really darkness or silence, there's always some noise from a neighbour or police car. When they come to the mountains they can see the beauty of the stillness and be inspired to be part of the solution to protect and preserve this landscape. That's what we're trying to bring to our customers; sustainable products that help them get back to basics with nature and within that also be part of a solution. All the passion from the community can come together and find new ways to prevent winter from going away and help winter to stay. It's difficult but when I see the people in this shop who are so into skiing, I see a light at the end of the tunnel that we can make it, and that also our grandchildren can still benefit from the Alps.
You can find Black Sheep Sports at Holzhofstraße 5, Munich or online at blacksheepsports.de